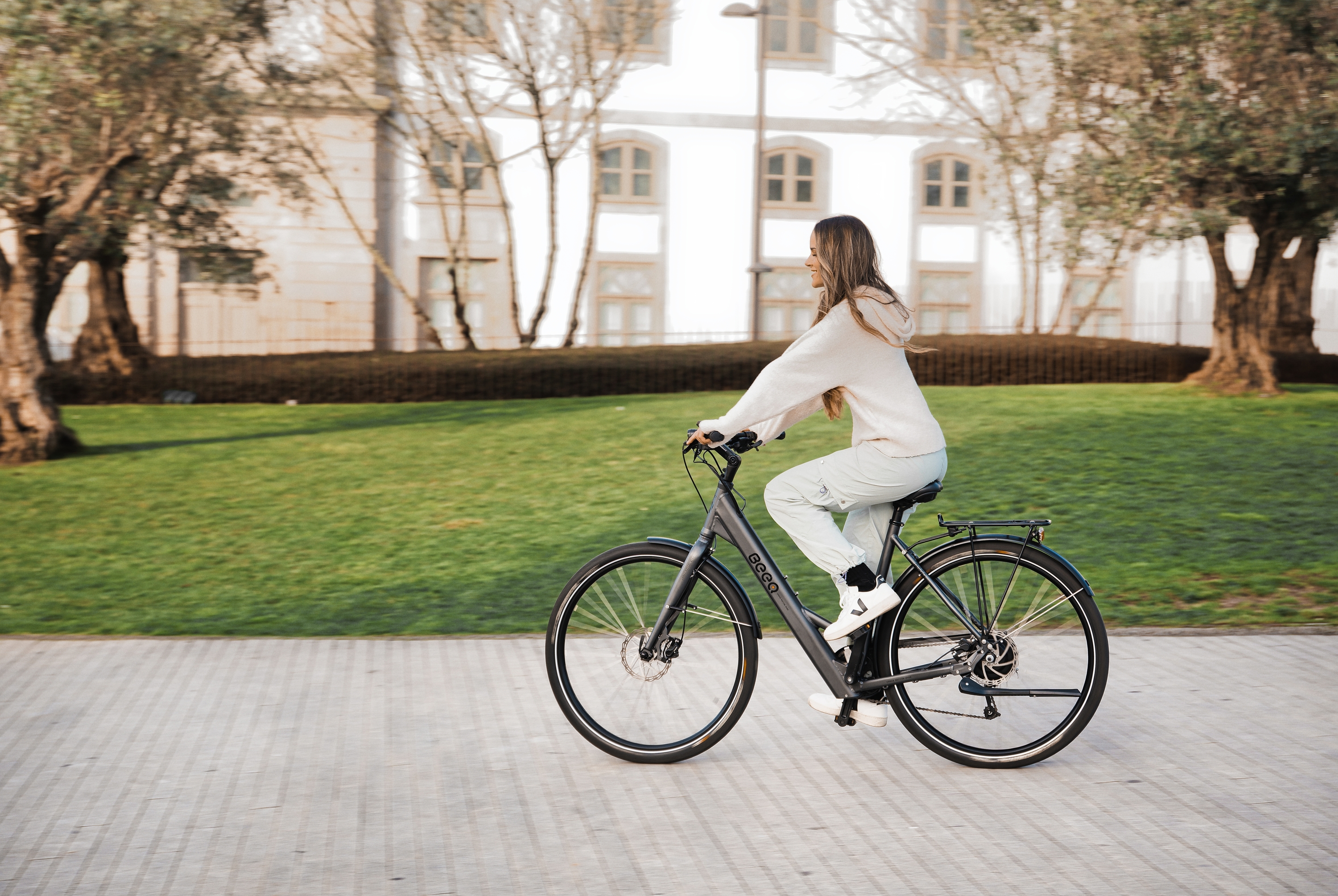 Apr 11 / 2023
E-Bike Driving: What you must know!
Electric bicycles are a great alternative for mobility in big cities and for the various trips you want to make.
However, it is important to pay attention to some aspects when using an e-bike. In this article, we let you know some questions that you should consider.
Ride your BEEQ Electric Bicycle comfortably and safely.
Legal Questions
If you are considering buying an e-bike, it is important that you know the legal questions surrounding its use.
To ride an electric bike you don't need a license, permit or registration, as long as the bike has a maximum continuous power of 250 watts and does not exceed a speed of 25 km/h.
If the power and speed exceed the limit, they are classified as mopeds and must be registered with the IMT (Institute of Mobility and Transport).
It is also important to take into account that the applicable misdemeanors are similar to any other conventional bicycle.
Mobility
There are plenty of options to circulate on your e-bike in Portugal! More and more cities are investing in the creation of bike lanes and adequate infrastructure for cyclists.
Cycle paths are exclusive traffic lanes for bicycles that offer greater safety and reduce the risk of accidents.
In many Portuguese cities, bike paths have been implemented along high-traffic urban roads. This implementation has encouraged more people to adopt the electric bicycle as a means of transportation.
In this way, circulating in this means of sustainable mobility becomes increasingly easy, practical, and economical, especially in areas where traffic is heavy.
Security
When riding a bicycle, it is important to ensure your safety and that of others. You can do this by following a few basic rules.
One thing you should consider is the use of lights or reflectors at night and in poor visibility. It is necessary to have a white light at the front and a red one at the rear, plus at least one yellow or white reflector on the wheels, or tires. Some BEEQ models, such as the Urban and Trekking, have an approved front light and side reflectors on the wheels, in addition to a rear and front light with reflector.
Another issue to consider is the use of a helmet. Although it is not mandatory in Portugal for conventional or electric bikes, it is highly recommended to ensure your safety. The Commuter Polisport BEEQ helmet is a modern and safe option for urban cyclists who wish to ride with style and safety. With an aerodynamic design, it has a ventilation system and quick and easy adjustment, as well as a fixed and blinking light that increases visibility when riding at night.
Besides using lights and a helmet, it is important to avoid distractions when riding. Therefore, it is forbidden to wear headphones or earphones in both ears while pedaling, and the use of cell phones is also restricted. It is only allowed in hands-free mode, using a headset, or talking on speakerphone.
To make it easier to use a cell phone while cycling, BEEQ offers a universal cell phone holder, which allows you to attach the device to the handlebars of your bike. This holder keeps your phone secure and accessible, allowing you to use the device hands-free or to follow GPS routes.
Finally, although not mandatory, it is highly recommended to take out a liability insurance for electric bicycles in Portugal. In the event of an accident, the cyclist is liable for damages caused to third parties, which can result in significant financial losses. Some insurers also offer additional coverage for theft, burglary, fire and personal injury, and it is important to carefully evaluate the options available to choose the protection you need.
It is important to remember that in addition to following traffic regulations, it is essential to keep the bicycle in good working order to ensure the safety and efficiency of the vehicle.
If you are looking for a reliable a e-bike to enjoy a safe and comfortable ride, visit the BEEQ Online Store and discover our high-quality models.
Invest in the Future. Invest in Sustainable Mobility!Investe no Futuro. Investe na Mobilidade Sustentável!